Some links in this article are affiliate links, which means I earn from qualifying purchases.
Today's market for gym equipment has many options for all kinds of lifters.
With so many choices, we should all be rejoicing right?
Well, not all the time.
More options do help with getting the best fit for a person. Too many options in fitness equipment can lead to information overload.

In the world of weight lifting belts, you have so many choices for each different element. One question I see a lot from lifters is "Should I get a 4 or 6-inch weightlifting belt?"
Well this question isn't easy to answer. Some lifters may find that a wider lifting belt will be more comfortable. Whereas, another lifter, with smaller torso could find the same weight lifting belt painful.
So what is the difference between a 4-inch and 6-inch weightlifting belt? The 4-inch weightlifting belt is the most popular size among lifter. It provides great support and is versatile enough to be worn for all types of workouts. The 6-inch weightlifting belt is only best for taller lifters and anyone with a longer torso. The extra width will help cover all the muscles necessary during a lift.
In a Hurry? Here Is My Recommendation
For most lifters, a 4-inch weightlifting belt will be more than enough for all their lifting needs.
The best 4-inch weightlifting belt in the market is the one sold by Dark Iron Fitness.
Best 4-inch Weightlifting Belt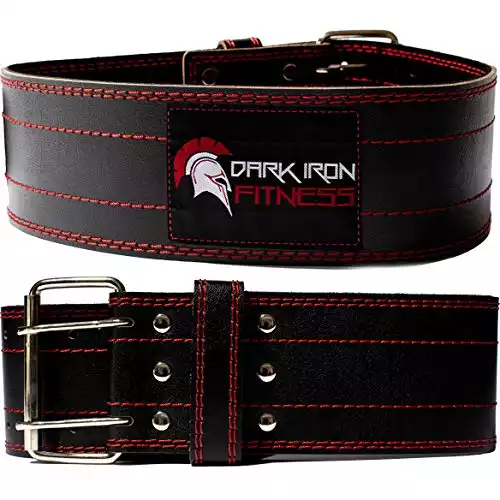 If you're looking for a wider belt because you're a taller lifter, a 6-inch weightlifting belt is ideal. The best 6-inch weightlifting belt is
In this article, I'll break down the factors to consider for choosing a width for a weightlifting belt. I will also give you the pros and cons of the 4 or 6-inch weightlifting belt. Lets start!
How to Choose Between 4 or-6 Inch Weightlifting Belts
For clarity the 4-inch or 6-inch refers to the width across at the back of the weightlifting belt. So a bigger width covers more of your torso both in the abdominal region as well as the lower back.
The role of a lifting belt is to support the abdominal muscles during difficult core lifts. The best example is the deadlift.
With more surface area covering your abdominal muscles you can brace more effectively. But, some smaller lifters will find that 6 inches of coverage in their lower back is too much. The larger weightlifting belt will obstruct some range of motion during certain lifts.
But it's important to mention that both types of belts do a great job in bracing and support the abdominal core.
Ultimately, the choice depends on what you are looking to achieve in the gym and your comfort level. Serious weightlifters who compete will have different needs than weekend warriors. To help you, here are some factors to consider before choosing your optimal width.
Will You Be Competing
The first thing you need to recognize is whether you are going to take part in any competition. If yes, then you only have one choice – 4 inches.
Olympic regulations allow a width of 120mm which is 4.72 inches. So for the sake of simplicity, most competition belts need to be 4-inch size.
How Tall Are You
If you are a taller lifter you may want to use the wider belt. Your back will need more support while performing lifts across a longer range of motion. A wider belt will possibly reduce risk of back pain and injury. If you are not incredibly tall, in most cases a 4-inch weightlifting belt will be fine.
Overhead Press Movements
Finally, you might be able to benefit form a 6" belt if you perform the overhead press frequently. While you lift the bar to the top position, your back tends to arch backwards. So, a wider belt could provide some aid here. However, It's not going to replace proper form so learn technique before trying to lift heavy with a belt.
The science doesn't provide much clarity in this topic. There is some research done in the field, but 6-inch belts are not included in any of them. So, we have to rely on the collective experiences of general public and manufacturers.
First of all, we will take a look at the 4-inch weightlifting belt.
4-Inch Weightlifting Belts
The 4-inch weightlifting belt is the most popular width among lifters.
Because of its design, most 4-inch weightlifting belts have the same width across. Most belt makers have this size as a default since it fits most weightlifters well.
However, there are some lifting belts with a taper and you may even like the comfort these belts offer.
Benefits of 4-Inch Weightlifting Belts
Choosing a 4-inch weightlifting belt has many benefits including:
Who Should Wear a 4-Inch Weightlifting Belt
First Time Belt Owners
If you're in the market for your first lifting belt, a 4-inch version is a great start. You'll be able to prorgess in your lifts and learn your preference of lifting belts.
With a 4-inch weightlifting belt you'll get enough support during your movements. If you find the width is too small, you can always get the bigger size for your next lifting belt.
Competitive and Recreational Weightlifters
Competitive athletes worldwide use this type of belt.
They have no issues going very heavy at this width. If you plan to compete in powerlifting or weightlifting, a 4-inch lifting belt is approved.
Lifters looking to Break Through Plateaus
As a lifter looking to improve your numbers, you can sometimes hit a plateau. Although there are several ways to break through plateaus, a 4-inch lifting belt may help you.
With a lifting belt, you'll be able to brace more powerfully and activate core strength. With the increased core activation, you generate more force outwards. Due to the tightness of lifting belts, the force perpetuates throughout your muscles.
With stronger muscle contraction, you'll be able to lift heavier weights.
The Best 4-Inch Weightlifting Belts
If you think you fit this category well, let's look at the best belts from this category currently on the market.
1. Dark Iron Fitness Weightlifting Belt
Best 4-inch Weightlifting Belt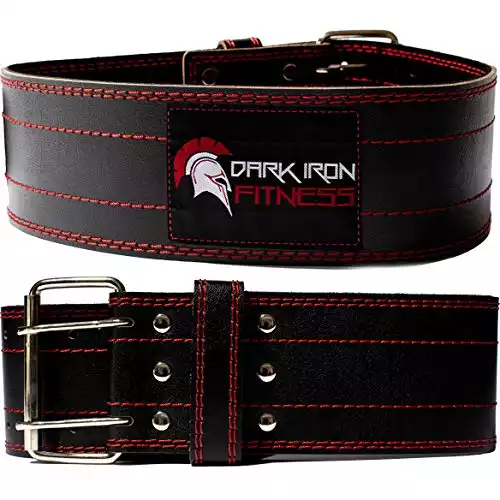 If you would go for the prong belt option, the Dark Iron Fitness Weightlifting Belt is a great option. They offer a lifetime replacement warranty with all lifting belts.
They also guarantee lifts of up to 250 kg without giving out.
2. Rogue Nylon Weightlifting Belt
My next recommendation is the Rogue 4 inch Nylon Weightlifting Belt. The loop and buckle closing mechanism makes it easy to personalize for size and comfort.
The brand of Rogue offers great products all around and their lifting belt is no exception.
3. Valeo Weightlifting Belt
My recommendation is the Valeo 4-inch Weightlifting Belt. Although they're more well known for their work related belts, this company offers quality products for a great price.
Their 4-inch Valeo Lifting Belt has good durability and is a fraction of the cost for a heavy dut powerlifting belt suzh as the one from Inzer.
4. Harbinger Weightlifting Belt
Lastly, the Harbinger 4-inch Nylon Weightlifting Belt offers support and a prong mechanism.
The thick leather may be harder to break into, but reviews show it is a worthwhile investment.
6-Inch Weightlifting Belts
The 6-inch weightlifting belt is not so common but some lifters prefer them. The 6-inch weightlifting belt is for larger lifters. Specifically, for men and women with longer or larger torsos.
Benefits of 6-Inch Weightlifting belts
Choosing a 6-inch weightlifting belt has one main benefit:
Who Should Wear a 6-Inch Weightlifting Belt
Taller Lifters
The wider weightlifting belt is ideal for taller individuals. Specifically, men and women with longer torsos will enjoy the extra coverage.
Some 6-inch belts taper from back to front. So the back would be 5 inches and the front would be smaller. The taper helps with flexibility and easier movement during lifts.
Lifters Looking for More Support
Some lifters may prefer a wider belt for more support during overhead lifts. Specifically, with more coverage in your torso, you'll be able to brace harder.
With a stronger brace, you can generate more force. Lifters who perform many overhead movements will enjoy the extra support from a 6-inch belt.
The Best 6-Inch Weightlifting belts
If you feel that this type of belt is a better fit for you, there are some great options to choose from.
1. Iron Bull Strength Weightlifting Belt
The Iron Bull Strength 6-inch Weightlifting Belt provides just the right amount of support for the back and the core. At the same time, the lifting belt stays comfortable during lifts.
The nylon is also a nice deviation from the leather standard, as it can be used right away. No need to spend time breaking it in.
2. RitFit Weightlifting Belt
For those money conscious lifters, the value of the RitFit lifting belt is great.
The RitFit weightlifting belt has a similar loop design making it easy for users. The quality is on par with many lifting belts on the market at a fraction of the cost.
3. Steel Sweat Weightlifting Belt
Steel Sweat is a recent company but their quality of lifting equipment is incredible.
They specialize in building quality products with reliable use. Their lifting belt has a Velcro design with great levels of security and easy to use fastening. Its a great beginner lifting belt and will provide you bracing ability during lifts.
4. Fire Team Fit Weightlifting Belt
The last recommendation is the Fire Team lifting belt. This belt is used by some Olympic lifters for more flexible movements such as cleans and power cleans.
What's neat about Fire Team is that they are owned and operated by US veterans. They are used by them and help contribute to veteran care.
Beside the company, the lifting belt offers a lightweight design with a sleek look. The contoured design helps lifters with more freedom during certain lifts.
Other Belt Considerations
When deciding which lifting belt to purchase, there are other factors to consider.
Most belts are 10mm in thickness but some lifting belts offer a 13mm version. Most people prefer the 10mm version.
The fastening mechanism for lifting belts come in lever or prong style. If you're a beginner a prong belt will be best. For serious lifters, a lever belt is great.
Leather is the top choice for lifting belt material. For durability and longevity, leather will suit most lifteers. But, there are other options available.
Frequently Asked Questions
Should I Get A 4 or 6-Inch Weight Lifting Belt?
Put simply, the answer for most lifters will be a 4-inch weight lifting belt. If you are taller or have a larger torso, get a 6-inch lifting belt.
How Thick Should A Weight Lifting Belt Be?
The most likely size you will end up with is going to be around 10mm. There are thinner ones available. But, they are softer and easier to break in.
Does A Weight Lifting Belt Weaken Your Core?
Your core develops regardless of a lifting belt. But you need to make sure not to wear a belt for every exercise, so you don't become dependent on it.
It's recommended to only start using a lifting belt once you've learned proper form.
Final Thoughts
The difference between belt widths is not as substantial as one may think. But, today's market offers enough options to get the best fit for every lifter out there.
Choosing between a 4-inch and 6-inch lifting belt should be an easy decision. Unless you are someone with a large torso, you'll want a 4-inch weightlifting belt.
My top recommendation is the Dark Iron Fitness 4-inch Lifting Belt.
References
Harman EA, Rosenstein RM, Frykman PN, Nigro GA. Effects of a belt on intra-abdominal pressure during weight lifting. Med Sci Sports Exerc. 1989 Apr;21(2):186-90. PMID: 2709981.
Lander JE, Hundley JR, Simonton RL. The effectiveness of weight-belts during multiple repetitions of the squat exercise. Med Sci Sports Exerc. 1992 May;24(5):603-9. PMID: 1533266.
Lander JE, Simonton RL, Giacobbe JK. The effectiveness of weight-belts during the squat exercise. Med Sci Sports Exerc. 1990 Feb;22(1):117-26. PMID: 2304406.